NEWS, CONCERTS, and PREMIERES
September 7 Labor Day concert at The Stone, with a premiere by Michael Nicolas, plus Jennifer Choi, Kathleen Supove, and a grooving take on wild, noisy dance music inspired by the instrumental 45 RPM single, with Billy Martin, Roger Kleier, Steven Bernstein, Briggan Krauss, and Brian Drye.
Information about The Stone
Videos of what you'll see:
Beeps and Vacuums and Sputnik and Shattered Apparitions
PROFILE BY VIVIEN SCHWEITZER IN THE NEW YORK TIMES

UPCOMING FOR 2015 and 2016:
A commission for the Los Angeles Philharmonic's Green Umbrella
series; new orchestral work for a Music Alive residency sponsored by The League of American Orchestras to be performed in Chautauqua NY and Umeå Sweden; recordings by Anthony DeMare, Kathleen Supove, Michael Nicolas, and the Agosto Foundation; and a new piece for pianist Nadia Shpachenko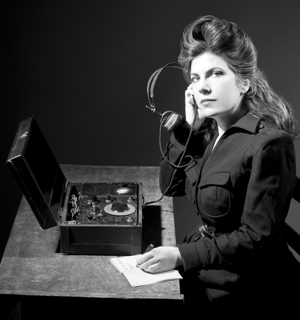 Annie Gosfield, whom the BBC called "A one woman Hadron collider" lives in New York City and works on the boundaries between notated and improvised music, electronic and acoustic sounds, refined timbres and noise. She composes for others and performs with her own band, taking her music on a path through festivals, factories, clubs, art spaces, and concert halls. Her most recent CD "Almost Truths and Open Deceptions" features a piece for piano and broken shortwave radio, a cello concerto, a 5-minute blast by her band, and music inspired by baseball and warped 78's. Her music has been performed worldwide at Warsaw Autumn, the Bang on a Can Marathon, MATA, MaerzMusik, the Venice Biennale, OtherMinds, Lincoln Center, The Stone, The Miller Theatre, Merkin Hall, and The Kitchen. Recent work includes compositions inspired by factory environments, jammed radio signals from WWII, and her grandparents' immigrant experiences in New York City during the industrial revolution. Annie's discography includes four solo releases on the Tzadik label, and she often writes on the compositional process for the New York Times' series "The Score." She was a 2012 fellow at the American Academy in Berlin, held the Milhaud chair of composition at Mills College, and has taught at Princeton University and California Institute of the Arts.

Annie Gosfield uses the KONTAKT Sampler and thanks
Native Instruments for their support.

Latest CD: "ALMOST TRUTHS AND OPEN DECEPTIONS"
A cello concerto, warped 78's, machines, a broken
shortwave radio and more
Listen to excerpts and read about the CD here
Order the CD from Tzadik or from Amazon
Read a review of the CD in the New Yorker here
VIDEOS on the GOSFIELD CHANNEL featuring
Kathleen Supové, Billy Martin, Phantom Shakedown, EWA7,
JACK Quartet, Ecstatic Music, Music with Jammed Radios

NEW CONCERT-LENGTH WORK FOR THE JACK QUARTET REVIEWED IN THE NEW YORK TIMES
link to review

SIX ARTICLES IN THE NY TIMES "OPINIONATOR"
The latest: Confessions of a Composeress
3 interviews with iconoclast composer PW SCHRECK

QUOTES
"A ceaselessly re-inventive composer, Gosfield mixes history, technology, and autobiography in work that oscillates vibrantly between past and future."
-Richard Gehr, The Village Voice
"New York's doyenne of gnarly sampled sounds" – Russell Platt, The New Yorker
"The music's mood reflected the nature of radio jamming — abrasive, otherworldly and, at times, unexpectedly and eerily beautiful."
- Vivien Schweitzer, The New York Times




"Annie Gosfield exuberantly exploits the inadvertent music of contemporary life: static, distortion, the clangor of industry and the siren song of space junk form part of her digital palette."
– Steve Smith, The NY Times

"Gosfield writes tough
music, packing a punch
and steering clear of sentimentality"
– Julian Cowley, The Wire

"Gosfield's pieces, driven by strong instrumental protagonists, stake their claim to a unique world - she's a glorious provincial, the Carl Nielsen of Second Avenue.
–Russell Platt, The New Yorker




"EWA7 is a machine­shop throwdown that could reduce angst­ridden 'industrial' poseurs to sobbing heaps." – David Sprague, The Village Voice

"With the electric-guitarist Roger Kleier and the percussionist Ches Smith, Ms. Gosfield closed with "EWA7", an explosive extended work indebted to Varèse and Pink Floyd yet entirely her own in terms of originality and audacity."
– Steve Smith, The New York Times

"Her music is unlike anything in the current European chamber spectrum, coupling zest and imaginative poetics with a warming textural glow underlying the spikiness." – Rob Young, The Wire

"A wonderful disc, beautifully performed and produced. Perhaps more than any other composer of her generation Gosfield has taken up the challenge of Edgard Varèse, writing music which addresses forthrightly the aesthetic challenge of mechanization, technology, and science."
– Robert Carl, Fanfare, reviewing the CD "Flying Sparks and Heavy Machinery"