RECENT NEWS AND UPCOMING PROJECTS:

WAR OF THE WORLDS is a new opera that eliminates the boundary between concert hall and the streets of Los Angeles. Three defunct air raid sirens located in downtown L.A. were re-purposed into public speakers to broadcast a live performance from Walt Disney Concert Hall, based on Orson Welles' infamous 1938 radio drama. Performers stationed at the 3 sirens sent their live report of the Martian invasion back to the concert hall, and performed simultaneously with the L.A. Phil. Commissioned by the L.A. Philharmonic, directed by Yuval Sharon, and narrated by Sigourney Weaver, it premiered in November 2017 at Walt Disney Concert Hall and on the streets of L.A.
Listen to an excerpt Read a program Read a description
Watch the trailer and twitter video from siren 2, siren 3, siren 1, and download all of the press clippings

Read the reviews:
The New York Times Seth Colter Walls wrote about "Ms. Gosfield's thrilling chamber orchestra writing" and "The collapse of physical distance was simple in design, perhaps, but stunning in execution."
The Los Angeles Times Mark Swed wrote "Stop reading and nab any seat you can find" and included it in his year end list as
"The merriest opera premiere of the year"
The New Yorker Alex Ross described "a vital, engaged new-music cohort, one unafraid of risk." and wrote of Gosfield's "virtuosic command of classical, pop, and avant-garde styles... Like Welles, she places the reality-bending power of the media under scrutiny"
Alex Ross also included it in his "notable performances of 2017"
Works List including orchestral, opera, chamber, and solo works
Read about a 2017 program of music about immigrant experiences

Annie Gosfield has been awarded a 2017 Guggenheim Fellowship
in music composition

Upcoming in 2018: Detroit Industry, inspired by Diego Rivera's iconic frescoes, industrial environments, and labor movements, performed by New Music Detroit at Detroit Institute of Arts in the Rivera Courtyard; and a new work in celebration of MATA's 20th anniversary

Read an ARTIST'S STATEMENT
2017: Recordings by the Jasper String Quartet named one of the top CDs of the year by the New York Times
and James Ilgenfritz
Recent releases by Kathleen Supove "The Debussy Effect"
Michael Nicolas, Billy Martin, the Agosto Foundation,
and Anthony De Mare's much lauded Liaisons CD on ECM

2016: New orchestral work for a Music Alive residency sponsored
by the League of American Orchestras performed by the
Chautauqua Symphony Orchestra and Felix Fan,
new work for the LA Philharmonic's Green Umbrella Series,
and a residency at the American Academy in Rome as the
Paul Fromm Composer in Residence

PROFILE AND REVIEW IN THE NEW YORK TIMES,
REVIEW IN THE LOS ANGELES TIMES

PROFILE BY VIVIEN SCHWEITZER
"Annie Gosfield, Scoring the Music of Machines"
"her high-energy, imaginative scores blend acoustic and electronic elements and have a propulsive, aggressive drive tempered by haunting, poetic and lyrical interludes."
A revealing in-depth profile and interview about Gosfield's past in factories, punk clubs, and the influence of found sources, improvisation, coffee, whiskey, technology and mortality.
MARK SWED REVIEW IN THE LOS ANGELES TIMES
Refracted Reflections and Telepathic Static, which was written for the Naughtons and ended the program, proved a delight. This time the sisters, who played the flashy 15-minute premiere impressively from memory, were terrific. She had them going up and the down the keyboards merrily deconstructing jazz, Minimalist patterns and much else. Just sounds happily transformed, colliding and whooping it up.
CONCERT REVIEW BY CORINNA da FONSECA-WOLLHEIM
"Her extraordinary command of texture and timbre means that whether she is working with a solo cello or with the ensemble she calls her "21st-century avant noisy dream band," she is able to conjure up a palette of saturated and heady hues." Read about performances by Gosfield, Michael Nicolas, Jennifer Choi, and Kathleen Supove.
Watch Videos of Lost Signals and Drifting Satellites
and Shattered Apparitions of the Western Wind

Read about an uproarious and dazzling performance of Annie Gosfield's Electric Sweepers and Vacuum Creepers "That energy was fully unleashed in the Latin-tinged Rattling Beeps and Serging Sweeps for which Ms. Gosfield was joined by her 'avant-noise' band, and in the joyfully manic Depth Charge, in which a zombielike walking bass line is injected with '70s funk."
Learn more about Gosfield's wild, noisy dance music with Billy Martin, Roger Kleier, Steven Bernstein, Briggan Krauss, and Brian Drye.
Watch videos of Electric Sweepers and Vacuum Creepers
and Rattling Beeps and Serging Sweeps
Read NOTES about the project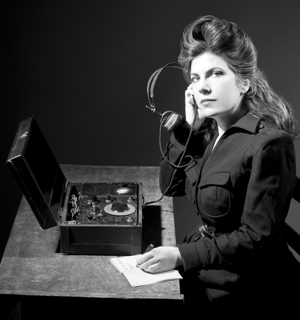 Annie Gosfield, whom the BBC called "A one woman Hadron collider" lives in New York City and works on the boundaries between notated and improvised music, electronic and acoustic sounds, refined timbres and noise. She composes for others and performs with her own band, taking her music on a path through festivals, factories, clubs, art spaces, and concert halls. Her most recent CD "Almost Truths and Open Deceptions" features a piece for piano and broken shortwave radio, a cello concerto, a 5-minute blast by her band, and music inspired by baseball and warped 78's. Her music has been performed worldwide at Warsaw Autumn, the Bang on a Can Marathon, MATA, MaerzMusik, the Venice Biennale, OtherMinds, Lincoln Center, The Stone, The Miller Theatre, Merkin Hall, and The Kitchen. Recent work includes compositions inspired by factory environments, jammed radio signals from WWII, and her grandparents' immigrant experiences in New York City during the industrial revolution. Annie's discography includes four solo releases on the Tzadik label, and she often writes on the compositional process for the New York Times' series "The Score." She was a 2012 fellow at the American Academy in Berlin, held the Milhaud chair of composition at Mills College, and has taught at Princeton University and California Institute of the Arts.

Annie Gosfield uses the KONTAKT Sampler and thanks
Native Instruments for their support.

Latest CD: "ALMOST TRUTHS AND OPEN DECEPTIONS"
A cello concerto, warped 78's, machines, a broken
shortwave radio and more
Listen to excerpts and read about the CD here
Order the CD from Tzadik or from Amazon
Read a review of the CD in the New Yorker here
VIDEOS on the GOSFIELD CHANNEL featuring
Kathleen Supové, Billy Martin, Phantom Shakedown, EWA7,
JACK Quartet, Ecstatic Music, Music with Jammed Radios

CONCERT-LENGTH WORK FOR THE JACK QUARTET REVIEWED IN THE NEW YORK TIMES
link to review

SIX ARTICLES IN THE NY TIMES "OPINIONATOR"
The latest: Confessions of a Composeress
3 interviews with iconoclast composer PW SCHRECK

QUOTES
"A ceaselessly re-inventive composer, Gosfield mixes history, technology, and autobiography in work that oscillates vibrantly between past and future."
-Richard Gehr, The Village Voice
"New York's doyenne of gnarly sampled sounds" – Russell Platt, The New Yorker
"The music's mood reflected the nature of radio jamming — abrasive, otherworldly and, at times, unexpectedly and eerily beautiful."
- Vivien Schweitzer, The New York Times